New
Honda Adventure Motorcycles

in Castleford
HONDA GL1800 GOLD WING TOUR ABS DCT & AIRBAG GL1800DAKE (19MY)
£8,940 Deposit / £269 Per Month
6.9% APR PCP from £279 a month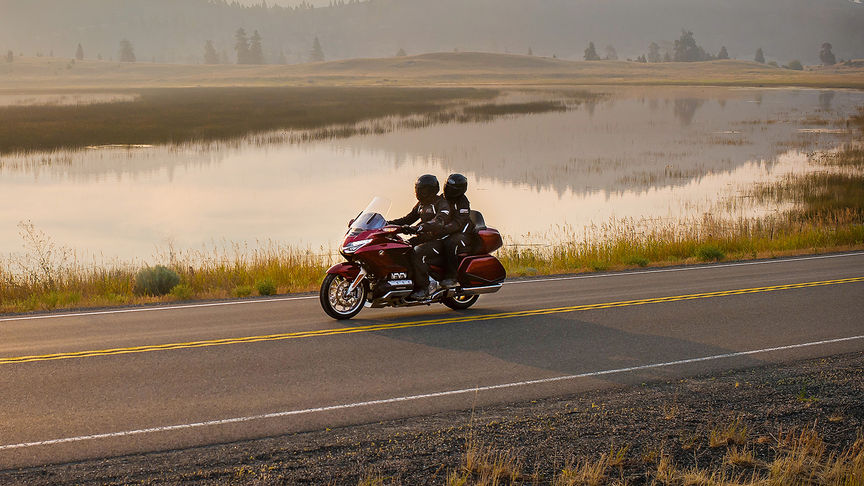 A beautifully finished, sleek machine that's more than just a motorcycle
Introducing the new Honda GL1800 Gold Wing; completely redesigned with a new chassis, engine and suspension system, nothing has been overlooked. Along with a big weight reduction comes 4 riding modes, DCT, Throttle By Wire and a host of other innovative and connected features, Honda's flagship continues to reign supreme in levels of comfort and luxury whether you're in the city, or out on tour.
Effortless performance
Distinctive performance with an individual character all of its own, there is nothing like the Honda Gold Wing.
A new, horizontally-opposed, 1.833cc flat six engine, punches out an arm-tugging 170Nm of torque @5,500rpm – it's the very essence of the Honda Gold Wing. Now, 6.2 Kg lighter, with 4 valves per cylinder and Unicam heads, you get strong eager performance – via new Throttle By Wire – out on the highway, as well as a delicate throttle response when you need it around town.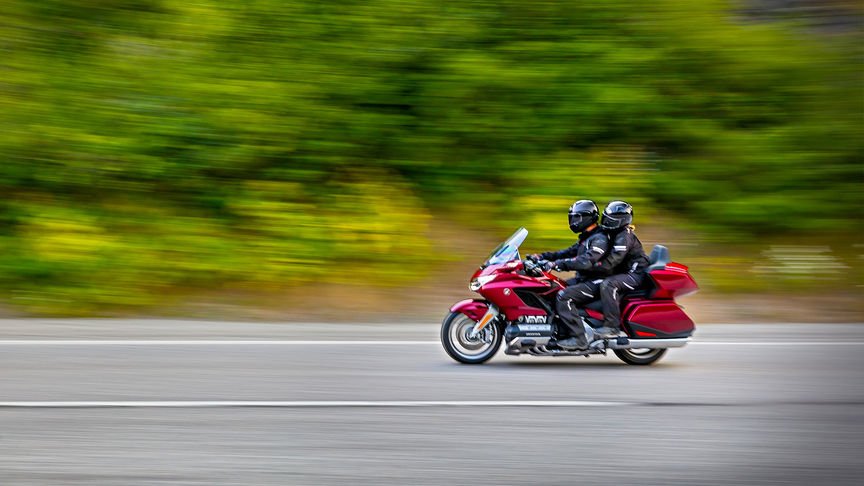 Strength and stability
A completely reimagined and re-engineered chassis delivers agile handling.
A much lighter, all-aluminium die-cast beam frame delivers agile handling, while up front, the long-standing traditional front fork has gone to make way for a double wishbone front suspension system. It's 30% smoother and delivers a real plush ride wherever you go.
All-round comfort
The rear suspension is a redesigned Pro-Arm type – a first for the Honda Gold Wing – and works with the unique Pro-Link arrangement that provides high-level comfort. Rear spring preload is electrically adjustable to suit passenger and luggage with four different settings.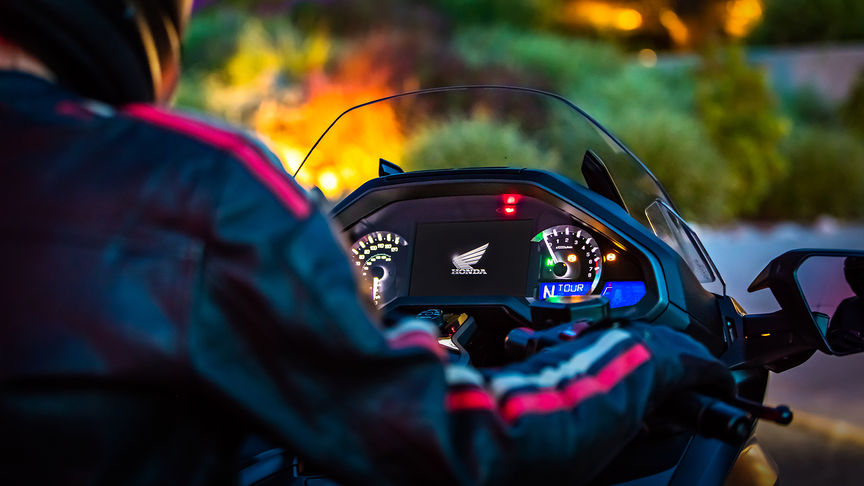 Third generation, 7-speed Dual Clutch Transmission is specifically designed for the Lord of long-distance cruising.
Extremely smooth and fast gear changes, DCT eliminates shift shock and has three modes of operation: MT mode provides you with full control and allows you to change gear manually using the trigger buttons on the handlebar. Automatic D mode is perfect for city and highway rides and delivers much better fuel efficiency. Automatic S mode is sportier and allows the engine to rev higher before shifting up for a more exhilarating ride. It will also shift down sooner for better engine braking.
An intelligent transmission
DCT in D mode works with you and can detect what environment you are riding in; adjusting accordingly between mountain roads and city streets. In addition, the Gold Wing comes with Idling Stop too – engine will stop after 3 seconds, restarting at the touch of the throttle – for improved fuel efficiency. And with Hill Start Assist, there's no fear of rolling backwards or forwards on an incline – clever.
Another innovative feature is the moderation of gear ratios. They're closer together for slow speed and seamless changes, yet will set themselves wider apart at high speed to reduce engine revs – very clever.
Start up and power up
We've created a unique Integrated Starter Generator (ISG) that works as starter motor as well as a generator; saving weight and energy. The Gold Wing can creep along in walking mode forwards and backwards too, which is ideal for parking.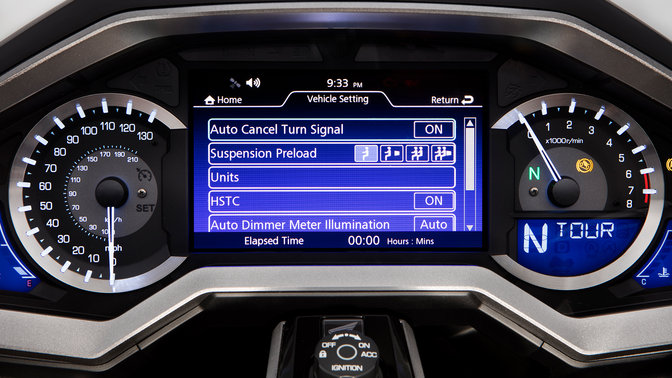 Keep connected
Everything you need to keep in touch is within easy reach on the 7-inch, TFT screen. Using Voice Control and Bluetooth® connectivity, you can access information and playlists on your mobile too.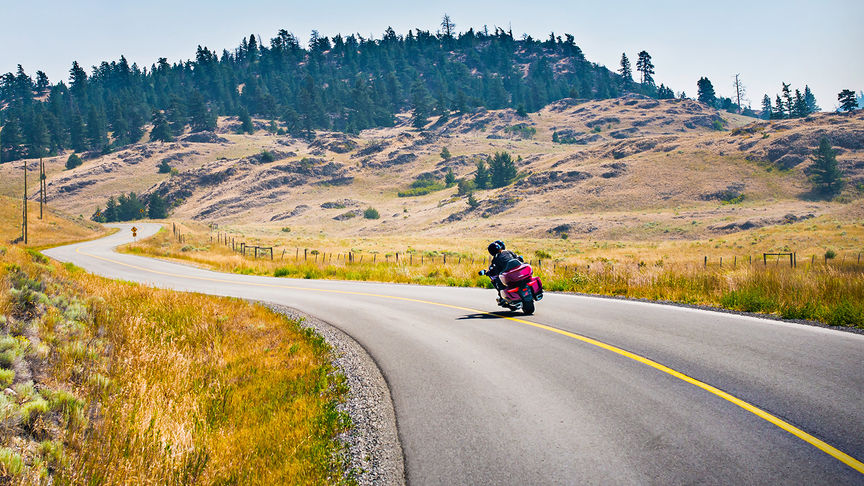 You can either tame the power deivery of the six-cylinder engine it, or let it off its leash – whenever the mood takes you – with these selectable ride modes
Tour
This is the base setting for comfort and power giving you a direct response with default suspension damping and brake force distribution.
Sport
This mode serves up strong acceleration, with firmer damping and increased rear brake lever pressure
Econ
With this mode selected you get maximum fuel economy and easy cruising with default damping and brake force to compliment the ride.
Rain
Select this to turn everything down to limit the throttle response for total confidence on a wet and slippery road. It works with the default distribution of braking force and much softer suspension damping.

No excess baggage
There's room for all your weekend touring luggage and enough space in the in the top box for two full-face helmets.

A clear view ahead
The new smaller, electrically-operated, smoothly-adjusted windscreen, provides excellent wind protection. The height and angle can be adjusted by simply pushing the button up or down on the left handlebar. It also memorises your favourite positions and will auto-adjust accordingly.

A smart key feature
No need to manually unlock the panniers or top box as the Gold Wing senses the remote key fob as you approach. Once pressed, you can keep the key in your pocket, then just press the start button and away you go..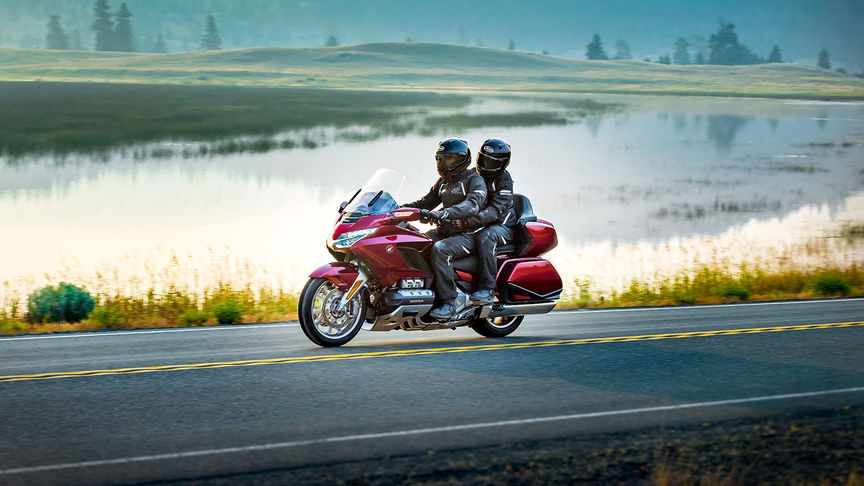 HSTC
Honda Selective Torque Control in all 4 riding modes, constantly allows controllable acceleration and good traction in slippery conditions. While in SPORT mode it allows maximum acceleration; you can really feel the engine pull – you'll be hooked from the start.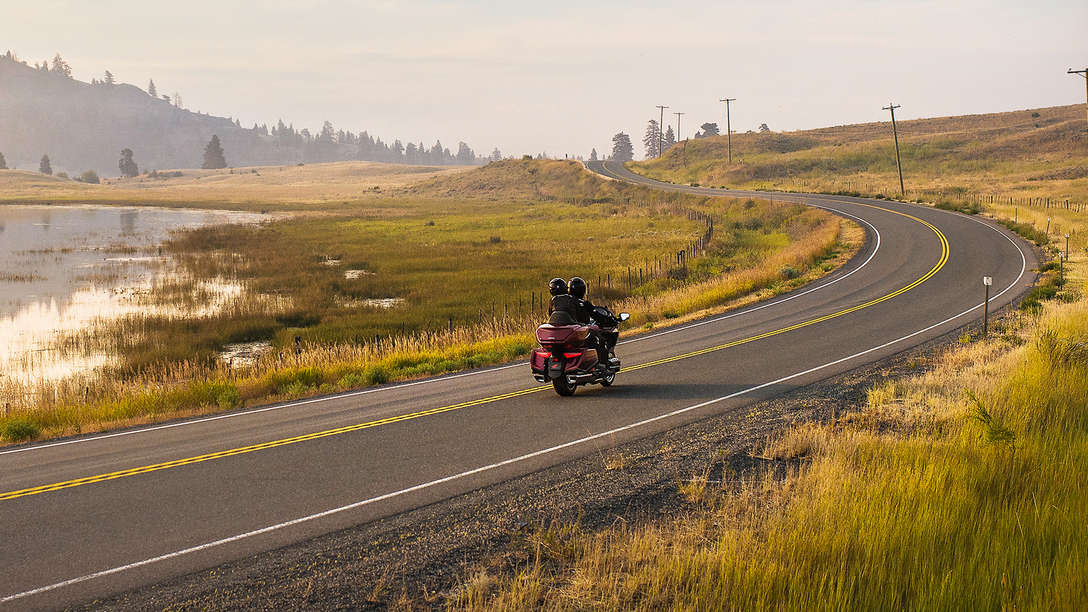 Get yourself ready for departure.
Better keep your passport handy because this is a bike that not only pioneers a new age of touring, but gives you a whole new way of looking at the world. You'll feel part of the landscape out on the open road; a trip you won't want to end.
There are three ways to escape: the sleek GL1800 Gold Wing, the GL1800 Gold Wing Tour with top box and the GL1800 Gold Wing Tour with DCT and airbag.
Control centre
Cockpit instrumentation highlights everything the rider needs to know in luxurious detail. The display is a 7-inch full colour, TFT liquid crystal screen which controls audio (Apple CarPlay®) navigation, Bluetooth, Voice Control as well as managing HSTC and different rider modes.
Specifications
ENGINE

Type

Liquid-cooled 4-stroke 24 valve SOHC flat-6

Displacement

1,833cc

Valves per cylinder

4

Bore x Stroke

73mm x 73mm

Compression Ratio

10.5:1

Max. Power Output

93kW/5500rpm

Max. Torque

170Nm/4500rpm

Oil Capacity

4.4 litres (MT) / 5.6 litres (DCT)

FUEL SYSTEM

Carburation

PGM-FI electronic fuel injection

Throttle Bore

50mm

Air cleaner

Viscous, cartridge type paper filter

Fuel Tank Capacity

21.1 litres

Fuel Consumption

5.6 litres/100km

ELECTRICAL SYSTEM

Starter

Integrated Starter Generator system

Battery Capacity

12V/20AH

ACG Power Generation Capacity

12V/120A

DRIVETRAIN

Clutch Type

(MT) Hydraulic, wet, multiplate with coil springs, assist slipper cam

(DCT) Hydraulic, wet, multiplate with oil pressure

Transmission Type

6 speed MT (including overdrive. Plus electric reverse)

7-speed forward and reverse DCT

Primary Reduction

1.795 (79/44)

Gear Ratios

(DCT) 1st: 2.167 2nd: 1.696 3rd: 1.304 4th: 1.038 5th: 0.821 6th: 0.667 7th: 0.522 Rev: 1.190

(MT) 1st: 2.200 2nd: 1.417 3rd: 1.036 4th: 0.821 5th: 0.667 6th: 0.522

Final Reduction

Engine side 0.972

Rear Wheel side 2.615

Final Drive

Enclosed shaft

FRAME

Type

Aluminum die-cast, twin tube

CHASSIS

Dimensions (L´W´H)

Gold Wing

L: 2,475mm

W: 925mm

H: 1,340mm

Gold Wing 'Tour'

L: 2,575mm

W: DCT 905mm / MT 925mm

H: 1,430mm

Wheelbase

1695mm

Caster Angle

30.5°

Trail

109mm

Turning radius

3.4m

Seat Height

745mm

Ground Clearance

130mm

Kerb Weight

Gold Wing: 365kg

Gold Wing 'Tour': MT 379kg / DCT 383kg

SUSPENSION

Type Front

Double Wishbone

Type Rear

Pro Link

WHEELS

Type Front

130/70R 18

Type Rear

200/55R 16

Rim Size Front

18 x MT3.5

Rim Size Rear

16 x MT6.0

BRAKES

System Type

Electronically-controlled combined ABS system

Type Front

320mm x 4.5mm dual hydraulic disc with 6-piston calliper, floating rotors and sintered metal pads

Type Rear

316mm x 11mm ventilated disc with 3-piston calliper and sintered metal pads